I picked up a Thomasville end table from Craigslist.
I was in such a "painting" frenzy that I didn't take a good before picture….so here is a close example from Thomasville's website.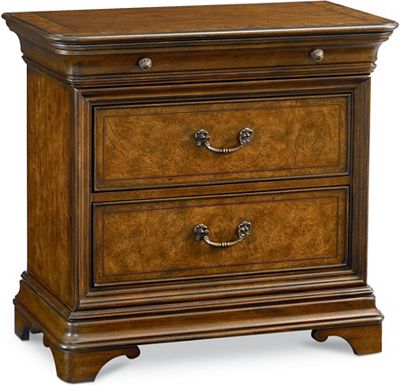 Are they seriously this expensive in real life?
I didn't expect to get distracted by the price…..but…..DANG people!
I have to re-group now to get back on the painting before and after. I'm just a little shocked at what it may have been new. No wonder the guy thought I was a cheapskate at refusing to spend $20.00.
I really need to get out more.
Ok…..
It was in good shape but needed to be "shabby" style to fit into Beaches inventory.
So, I did this………
I call this my, "OH CRAP….I ain't no Miss Mustard Seed" stage.
My first step was to take CeCe's "Simply White" and paint the whole piece.
Don't ask me why…I just did.
And then I freaked.
But freaking aside….the paint is really neat. It is similar to chalk paint but thinner. It is chalk/clay paint and it feels like ummmmm…….clay. It dries so quickly and makes doing multiple pieces at one time very easy.
I really liked the paint.
But I wasn't liking the end table….. I was wondering where I would go next.
So, I did this.
I call this my, "Dang it, that isn't what I pictured in my head" stage.
I new it needed something different than just the white and wanted to branch out and try color.
The color was Smokey Mountain and it was gorgeous but I still wasn't feeling it.
Until I pulled out my sanding block…….and then it all started to come together.
If I don't like it….I distress it. If I still don't like it….I distress it more.
Then, eventually I make it to this stage.
I call this my, "I think this may be my favorite" stage.
Sweet and shabby.
I think this is the second piece that sold.
The paints are available at Beaches and the ladies there will love helping you.
Do you like it?
Do you have specific questions?
I can't wait to hear from you!
Love,
Me
PS.
I'm linking up to:
http://my1929charmerblog.com/Â 
http://www.getouttamyheadplease.com 
http://www.askannamoseley.com 
http://www.skiptomylou.org/2012/02/27/made-by-you-monday-89/Â 
http://threemangoseeds.blogspot.com/Â 
http://www.domestically-speaking.com/2012/02/115th-power-of-paint-party-baseball-chalkboard.html 
http://www.ourdelightfulhome.blogspot.com/Â 
http://www.itsoverflowing.com/2012/02/overflowing-with-creativity-11.html 
http://www.theshabbycreekcottage.com/Â 
http://www.atthepicketfence.com/Â 
Friday
http://www.atthepicketfence.com/
http://redoux.blogspot.com/Â 
http://frenchcountrycottage.blogspot.com/2012/02/feathered-nest-friday_16.html 
http://www.stuff-and-nonsense.net/Â 
http://missmustardseed.com/Â 
http://chiconashoestringdecorating.blogspot.com
http://www.hopestudios.blogspot.com/
http://funkyjunkinteriors.blogspot.com/